As a great man once said, I love it when a plan comes together. Go Set a Watchman by Harper Lee happens to be my book club book for January, so I decided to double up and use it for this prompt as well. Synergy FTW!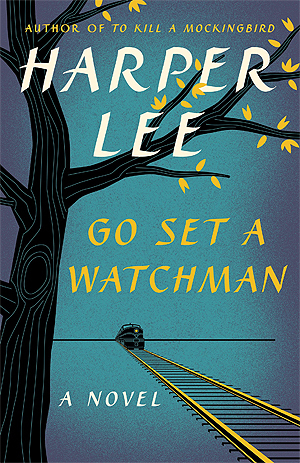 Synopsis (from Goodreads)

Maycomb, Alabama. Twenty-six-year-old Jean Louise Finch–"Scout"–returns home from New York City to visit her aging father, Atticus. Set against the backdrop of the civil rights tensions and political turmoil that were transforming the South, Jean Louise's homecoming turns bittersweet when she learns disturbing truths about her close-knit family, the town and the people dearest to her. Memories from her childhood flood back, and her values and assumptions are thrown into doubt. Featuring many of the iconic characters from To Kill a Mockingbird, Go Set a Watchman perfectly captures a young woman, and a world, in a painful yet necessary transition out of the illusions of the past–a journey that can be guided only by one's conscience.
Honestly I can't review this without spoiling the plot, so I'm not even going to try:
​Atticus is racist. Jem is dead. Calpurnia is raging in exile. Dill is replaced by some guy named Henry.
This is the world of Go Set A Watchman which sadly removed everything I loved about Mockingbird and replaced it with continuity errors and poor characterization. I understand that Watchman was written before Mockingbird but one would assume that the editors would have perform a tiny bit of maintenance on the book and make sure everyone at least had the same names (Alexandra's son is Henry in Mockingbird and Francis in Watchman) and that major plot points were the same (in Watchman Tom was acquitted instead of sent to jail). Tom being imprisoned and then killed made him the Mockingbird of the title. That was kind of the point of him really. Having him acquitted feels well just, plain silly.
What I loved
I did feel that the Scout in this book felt true to the Scout of Mockingbird, she felt like someone the younger girl would grow up to be, which can be tough to write.  Other than that though, there wasn't really anything I loved. The characters of Jem and Calpurnia who were my favourites in the original were pretty much out of the picture.
What I didn't love
Scout replaces Atticus as the perfect character who does no wrong and speaks in pronouncements. It just felt strange to have a character I loved for her flaws become so perfect. I really had to force myself to finish this book which is disappointing.
My Rating:
(2.5 / 5)