I'm only a newcomer to blogging, so I decided to participate in Blogmas run over at Collective Strand in order to get in the habit of writing every day.  I've missed writing since I've become a mum and it's part of a few changes I'm making in my life to carve out a bit more time for myself. So without further ado, here is my first Blogmas post with 5 factoids about me.
I wanted to be a park ranger when I grew up

Or really anything involving animals. I used to be a member of the Junior Ranger program run by Brisbane Forest Park when I was a kid, oh man it was so awesome!  I was also a volunteer in the wildlife rescue centre at the RSPCA which was amazing! I had so much fun working there, even though there were some really tragic cases that came through.   I got pregnant though and sadly pregnancy and random animal poop does not mix not to mention I had truly dreadful morning sickness. I'd really love to take this up again one day when the boy is a bit bigger.
I have watched every Best Picture nominee released since 1980

I'm working on watching every one of all time.  I've also watched every Best Animated feature nominee since their inception. I'm a bit of a film geek (among my other various kinds of geekery).   I have no interest in critiquing them or anything like that, I just love the magic of being swept away into another world temporarily. It's the same reason I'm a big reader.
My first concert was Girlfriend

If anyone outside of Australia is reading this, Girlfriend were an Aussie pop band way back when who wore epic Blossom-style hats. My god I was obsessed with those hats.  There was a whole line of clothes as well but I was all about the hats.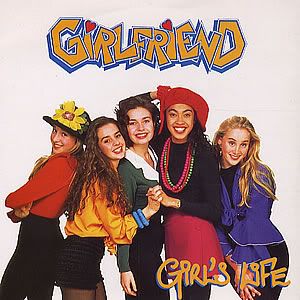 My mum took me to see a free concert at the Southbank Piazza when I was about 10, and I was so freakin excited.   While writing this post I realised that a song I sing to my son as a lullaby is actually one of theirs, so obviously they are very much a part of my sub conscious.  I remember going with my mum and her singing along just as loud as me.  It's honestly one of my best memories growing up.
I'm terrified that I will drown in the shower
For my last one I decided to share something truly odd about myself – I have nightmares about drowning in the shower. I put it down to watching The Cell while, well let's just say less than sober. The imagery stuck with me and it's something that really truly freaks me out ever since. I can put my face fully under the water now but it still takes me a lot of gearing up. Husband thinks its hilarious.  I'm sure everyone has a strange thing like that…. right guys?