Happy Treat Yo Self Day! We've already talked about Galentine's Day on the blog, but the amazing Parks and Rec also created another day that Mums everywhere should definitely celebrate – Treat Yo Self Day! The idea is that for one day, you say yes to indulging yourself – eat the cake, buy the thing – Treat Yo Self!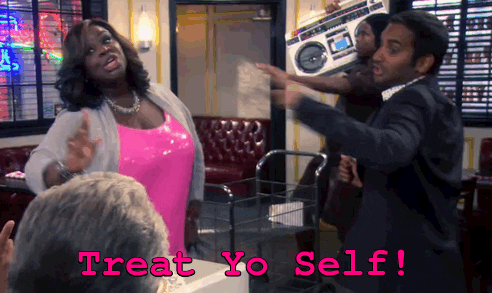 Mums in particular are really bad at self care. We are always putting the metaphorical oxygen mask on everyone else first and eating the burnt chop. On Treat Yoself Day this is no more! On this holiest of holy days, we put ourselves first.
So What Can I Do?
5 Minute Dance Party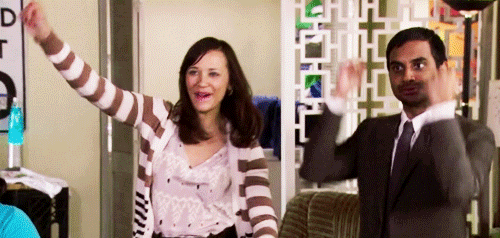 This is the best fun ever. Pop on some Taylor (or whatever your jam) and groove around your lounge room like nobody's watching. Watch your toddler if you need help. They are masters of the impromptu dance party.
Schedule Time Off
Sometimes just knowing you have some me time on the horizon can make it easier to cope. It sounds silly to schedule some time to sit and read a book, but sometimes it's what we have to do.
Hug Someone
Kids give the best hugs, but anyone will do. Touching another human being gives you mega endorphins.
Phone A Friend
This is something that we always put off, sticking to text messages or just forgetting to call back but hearing the voice of someone you love can lift your mood in an instant.
Go For A Walk Somewhere Beautiful
Something about going for a walk in a pretty place lifts my spirits like nothing else. I have a local walking track where I can go and just marvel at birds landing on the water. Check out your local council or state government website to find an easy walk near you.
Write It Out
Unload all of your thoughts on a bit of paper, or an iPad screen but also write down things to decrease the pressure on your memory. A good to do list is a thing of beauty and should not be underestimated.
Unplug
Feeling a bit of FOMO? Unplug from social media for an afternoon, day or a whole weekend to help you see what you have in front of you. The amount of time giving up a bit of social media gives you back is astounding.
So Be Kind To You and Celebrate Treat Yo Self Day!
It doesn't have to be huge like a Batsuit, it can be small like taking a half hour a day to drink your tea and read a book, or a piece of chocolate that you don't have to share. Just do something nice for yourself and make every day Treat Yo Self Day. We deserve it.