Happy Galentine's Day!!  What's Galentine's Day you ask?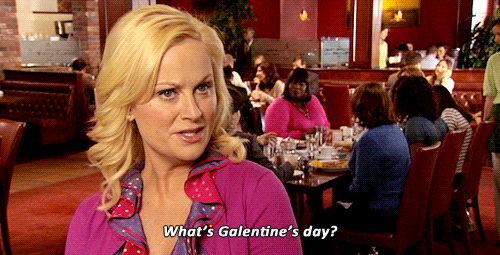 For the unitiated, Galentine's Day was created for an episode of Parks and Recreation, it's become a worldwide phenomenon, where women can celebrate the amazing other women in their lives by giving gifts or just dropping everything to hang out.
My little tribe is celebrating Galentine's Day a little late this year, so in honour of the holiday, I've put together my favourite inspiration women I'd love to have over for Galentine's Day.
Tina Fey
S'Tina. Nuff said.
Amy Poehler
Amy is integral to the concept of Galentine's Day since she played its founder. Her autobiography Yes Please is filled with little nuggets of wisdom like this one -it's an amazing read on a day when the world is just not on your side.
Felicia Day
Felicia Day is just an incredible hooman. She turned her pain, anxiety and gaming addiction into something powerfully positive and creative when she dreamed up her web series The Guild. Known as a Youtube pioneer, she's since created her own brand Geek and Sundry.
Emma Watson
I'm not sure I need to qualify why Emma Watson is inspiring – she's known for launching her own feminist movement He For She via her work with the UN, she's incredibly talented and has achieved so much before the age of 30.
Anne Hathaway
Google Anne Hathaway and you will see a lot of Hatha-hate on the interwebs but I've always found her grace under fire to be incredibly inspirational. The woman was loudly screamed at from every corner of the internet and managed to just keep on trucking.
Emma Thompson
Emma Thompson is my Patronus. She was the English Jennifer Aniston when Kenneth Branagh left her for the very young Helena Bonham Carter, and she refused to denigrate either of them, even when goaded. Class act all the way. Wicked talented, she's managed a long career in an industry not known for its longevity and that moment she accepted an award with heels and glass of wine in hand cemented a life long love.
Rachel Bloom
This. This. A thousand times this. For those who don't know her, Rachel Bloom is the star and creator of the feminist musical sitcom Crazy Ex-Girlfriend. Her talent leaves me in awe and her Youtube channel is beyond hilarious. Watch 'Fuck Me Ray Bradbury' if you don't believe me.
I'd also like to take this opportunity to say Happy Galentine's Day to all the amazing women I've met through this blogging gig. I've learned so much from all of you and it's been so wonderful getting to know you all!