The greatest tragedy of my life is that Halloween wasn't celebrated in Australia until I hit my twenties. I was smack bang in the middle of my all black wearing, Tim Burton worshipping, emo phase when the kids first started trick or treating so I've never gotten to bob for apples un-ironically.  Once you have  a kid though, you get to go back and do all those sort of things under the guise of 'being a good parent' HUZZAH!!!   I am hell bent on my son loving Halloween as much as me so I am slowly indoctrinating him through film. Here are my 10 favourite spooky but family friendly movies to stream with yours this Halloween.
1) The Nightmare before Christmas
Streaming on Netflix
Everyone hail to the Pumpkin King!  While this is primarily a Christmas movie, given it takes place in Halloween Town I think it works for both. The songs are catchy as hell, and while it's not directed by Tim Burton, the fact that he came up with the concept gives it its Burton-esque vibe.
2) A Monster in Paris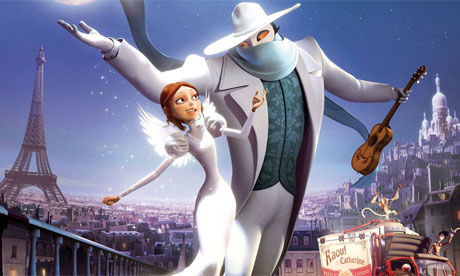 Streaming on Stan and Netflix
Thanks to the joy of streaming I only just discovered this movie but it's become one of my all time favourites. Raoul and Emile accidentally release a monster from a scientist's greenhouse and promise to bring it back.  They discover the monster may not be as scary as he appears, and with the help of opera singer Lucille, help to save him from a evil police chief.
3) Hotel Transylvania
Streaming on Netflix
This is the only Adam Sandler movie I have liked in the last decade. Sandler plays the owner of the Hotel Transylvania, a refuge for monsters from the evil humans. But what happens when a human finds his way in and maybe aren't as bad as he made out?
4) Wallace and Gromit: The Curse of the Were-Rabbit
Streaming on Netflix
If you haven't seen it you really should. Wallace and Gromit are working as pest controllers when a gigantic rabbit starts terrorising the town. Go watch it!
5)  Coraline
Streaming on Netflix
Coraline is a kick ass little girl who takes no guff from anyone. This movie also features French and Saunders playing retired actresses with hundreds of  taxidermied angel-dogs and Ian McShane training a mouse circus. If I need to sell it more, it's also based on the fantabulous book by Neil Gaiman.
6) Corpse Bride
 Streaming on Netflix
Tim Burton is just God's gift to halloween movies. Pretty much most of them could be used here, but I love the beautiful creepiness of Corpse Bride. There is something truly ethereal about this movie, that makes it one I absolutely adore.
7) Casper
Streaming on Netflix
Oh this was my favourite movie as a teenager. Bill Pullman as a a slightly dorky dad – sign me up! There's a little something for everyone here – kids and mums alike 😉
8) Igor
Streaming on Stan
A bit of a lesser known effort, but pretty good despite it. John Cusack plays the title character who dreams of becoming a mad scientist and winning the evil science fair. The only problem is when he manages to make a monster, she's the kindest, sweetest girl you'd ever want to meet and has always wanted to act.
What does your family do on Halloween? Do you have some favourite family friendly Halloween movies that I've missed? Or are you more into the scarier fare? Share in the comments!